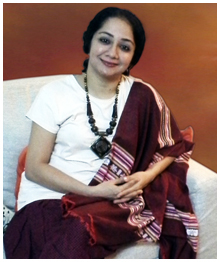 Music lies at the very heart of life and existence. At the seat of creation, lies rhythm and the primordial sound. When music touches a person, whether he or she is a lay listener, a connoisseur, an instrumentalist, a percussionist, a singer or a musicologist, it bestows a bliss that cannot be captured in words.
Nithya Rajendran was born into a musically inclined family. Her grand uncle, the distinguished
Guruji. A. S. Raghavan,
made history with his music compositions for the famous collection of
Tamil devotional poetry
called
Thirupuggazh.
His compositions are sung far and wide across the world today. Hailing from a family of connoisseurs and performers of music, understandably led to exposure to music at a very early age for Nithya. She has not looked back since, as music progressively carved a deep niche in her voice and heart. Music has retained a very special place in her life notwithstanding various other pursuits and achievements, including securing qualifications in Economics and Mass Communication, working with leading advertising agencies for many years and pursuing an active career in photography.
She now has over thirty years of learning behind her. She is a versatile classical vocalist who has had intensive training in both styles -
Carnatic and Hindustani classical music.
She has many accolades and performances to her credit. Her deep passion for music has now expanded from performing to educating through teaching and workshops, and also to exploring the therapeutic and spiritual potential of Indian classical music.
Qualifications and achievements
Nithya Rajendran is a classical vocalist trained in Carnatic and Hindustani music, and has undergone over thirty years of learning from eminent gurus. She has given music performances at various prestigious forums, and has also performed thematic concerts presenting the same raaga in both the Carnatic and Hindustani styles.

Her performances include concerts at Shanmugananda Hall (Essar and Padma Ranga Hall) in Mumbai and concerts organized by Indian Music Group, Chembur Fine Arts Society, World Vegetarian Congress, Nada Sudha Sabha, TTD Sabha, Krishnapriya Music Circle, Bharat Kalachar (during Margazhi Mahotsav, Chennai) etc. Nithya has also been invited as a judge for various prestigious musical forums, including state and district level competitions and for cultural events of leading schools and colleges.

She is a panel Indian Classical Carnatic Vocalist with ALL INDIA RADIO. Her programmes go on air often in their classical music channel.
Nithya graduated in Hindustani Classcial Vocal Music with a top rank and distinction from Mumbai University. She also has many decades of private training under eminent gurus in both styles (see the "Guru Parampara" page).
She is Founder of 'Music Vruksh' TM – An initiative which focusses on teaching, educating and awakening people to the potential of Indian Classical music to pleasure, heal and awaken one's spiritual potential. Music Vruksh's mission is to bring into the fold of Classical Music, as many as possible and ignite in them, a passion and a desire to engage more and more with the dazzling, magical and ancient art form!
She has conducted various concert and lecture demonstrations for adults and children on Indian classical music (Both Hindustani and Carnatic) across different cities.
Nithya holds a certificate in Music Therapy from Nada Centre For Music Therapy, Chennai, and is on their roll of honour. She has a deep fascination for the therapeutic potential of music, and has incorporated some of these techniques in her teaching experience to help people use music towards self development and spiritual ends. She was on the board of examiners for the distance learning program of the Nada Centre for Music Therapy.
Incidentally, Nithya is a Graduate in Economics and holds a Masters in Communication. In addition, she also holds a diploma in Photography and in Multimedia.
She has received numerous scholarships and awards for Carnatic classical music, including the prestigious Bharat Kalachar scholarship and Central Government scholarship from the Centre for Cultural Research and Training (CCRT). She receieved these scholarships in her early years and held them for numerous years after.
In her school and college years, she received numerous prizes and awards for Classical music and also for light classical and film music. She represented her state twice at the national level and won the national prize for light classical music in a competition held by the Sangam Kala group. She led her school's bhajan group to an enthralling national level victory of the Bhaktaswara Bhajan Mandali's all-India final competition. She won the national integration award from her school for her eclectic contribution to music. In her collegiate years, she led many cultural music programs, and groomed many of her fellow students and juniors
Nithya is a professionally trained portrait photographer and once juggled a parallel career in portrait photography. Access her professional photography website at www.facesnfacets.com
Nithya has a deep interest in spirituality and the connection between music and spirituality. She writes about related topics in her blog, www.soulspillsover.blogspot.in. Nithya is also on the panel of writers contributing to the spiritual wellness magazine Life Positive.