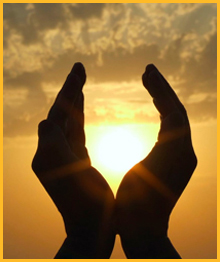 Nithya has had a keen interest in spirituality for many years. In particular, she takes special interest in self-development, self-healing through meditation, physical fitness, yoga, psychology and music therapy. Nithya explores these topics through articles and poems in her spirituality blog
www.soulspillsover.blogspot.in.
Nithya is also on the panel of writers contributing to the spiritual wellness magazine
Life Positive.
Nithya holds a certificate in music therapy from the
Nada Centre for Music Therapy
Chennai, and features on their Roll of Honour. Nithya is on the panel of examiners for Nada's learning program and shares a close professional association with
Mr. T.V Sairam,
who is a pioneer in the field of music therapy in India.
Through her personal spiritual growth process, Nithya has been able to discover and explore the enormous potential of music to heal the mind, and consequently, the body. Her ability lies in discovering and imparting simple yet powerful techniques, which use Riyaz methods of Indian Classical music, to help relieve stress, anxiety and depression. These, in turn, have a profoundly positive impact on the body. Nithya herself has benefitted immensely from these techniques and aspires to employ this approach to help as many people as possible, even if in a small way, to use music to their benefit.

Sound of Silence Meditation
Om Pranayam
'Shadaj' Riyaz
Basic Scale Riyaz
Ten Thaat Scale Riyaz using the Harmonium
Raaga Riyaz using Aaroha and Avroha
(Raag Bhoop, Raag Yaman, Raag Bhairav, Raag Hansadhwani etc.)
Thaat, Raag Riyaz using Basic Taals (Teen Taal and Ek Taal)
Music - Hearing Suggestions


Contact Nithya for a Lecture Demonstration